Human Resources: What It Is and Why It's a Critical Business Function
SaaS businesses, banks, consulting firms, health care organizations, retail stores, and hotels all have something in common. They need people to run their business operations and generate revenue.
Of all the resources a company uses to generate revenue, people are the most important. That's why organizations have a dedicated department for attracting, developing, and retaining them — human resources (HR).
Attracting, developing, and retaining people has never been more challenging due to the increasing number (and complexity) of external factors like globalization, technology, and changing employee expectations.
In this time of uncertainty and disruption, organizational leadership is increasingly looking to the human resources department for help. According to SHRM's State of the Workplace Study 2021-2022, 83% of HR respondents agreed they were "relied upon by senior leaders to help navigate new situations or practices."
Read this ultimate guide to human resources to understand why HR is critical to the business and how to optimize your own human resources department and strategy.
Human Resource Management
Human resource management (HRM) is the set of tasks and activities related to the people in an organization that contribute to the overall performance. This includes recruiting people, employing them, training them, compensating them, retaining them, managing their performance, and developing policies relating to them.
Some of the most important objectives and functions of human resource management are:
Conducting job analyses
Planning labor needs and recruiting
Selecting and vetting candidates from the pool created through recruitment
Conducting orientation and training for new hires
Holding regular training and development sessions
Managing the compensation and benefits of employees
Creating and optimizing a performance management system
Administering policies, including those related to employee wellness and safety
Monitoring employee motivation and satisfaction
Being involved in decisions related to compensation, transfers, promotions, and termination
Below is an illustration that summarizes these functions of HRM.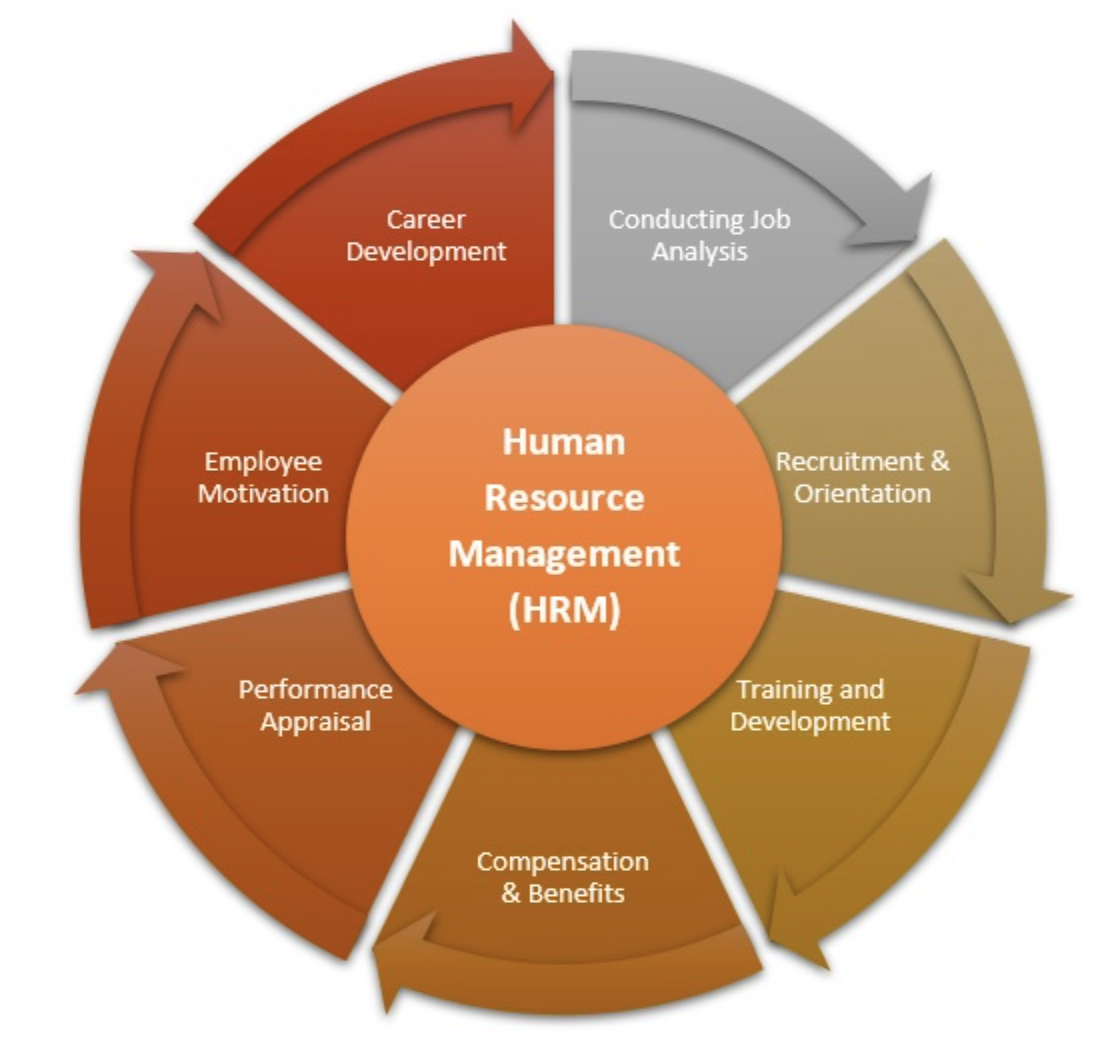 Let's take a closer look at some of these functions below.
1. Recruiting and Hiring
The most obvious function of HRM is recruiting and hiring. HRM professionals are responsible for finding, vetting, and hiring candidates who meet the necessary qualifications for specified positions. This process involves many steps, like:
Writing job descriptions and posting them on job listing sites
Reading resumes
Scheduling and conducting interviews
Performing background checks on applicants
According to SHRM's State of the Workplace Study, 68% of organizations are prioritizing finding and recruiting talent with the necessary skills, making it the third-highest priority for 2022.
2. Developing Workplace Policies
One of the most important aspects of HRM is to develop policies that ensure fairness and consistency across an organization. While HRM is responsible for recognizing the need for a policy or change of policy, they work with managers and executives to get their insights and buy-in. HRM is then responsible for writing the policy and sharing it with employees.
Typical policies include a vacation policy, ethics policy, discipline process, and remote work policy.
3. Overseeing Employee Training and Development
The responsibility of HRM professionals does not end after recruiting candidates — they must train those employees to continue to grow and develop new skills in their roles. Effective training programs not only help increase productivity but also employee motivation.
Examples of training and development programs are job skills training, product training, policy and legal training, and team-building activities.
Training and development should be aligned with organizational needs. For example, if preparing for the impending retirement of many executives, an organization might focus more heavily on leadership development programs for its vice presidents and directors.
4. Administering Compensation and Benefits
HRM professionals need to ensure that the compensation and benefits they offer to employees not only meet industry standards — but are also fair considering the number of years they've worked for the organization and their level of experience and education. Compensation packages also have to be competitive enough to attract and retain the best candidates to work for the organization.
According to SHRM's State of the Workplace Study, 19% of HR respondents indicated the need to increase benefits and compensation for current and/or new talent to strengthen their organization's competitiveness.
Since compensation includes anything the employee receives for their work, it includes:
Pay
Health benefits
401(k) plan
Stock purchase plans
Vacation time
Paid sick leave
Bonuses
Tuition reimbursement
5. Retaining Employees
Retaining employees is another critical function of HRM professionals. While compensation is an influential factor in motivating employees to stay with the organization, it's not the only factor. In fact, the majority of employees leave a company for reasons other than compensation like their relationship with their manager or issues with the workplace environment.
As a result, organizations are increasingly looking for other ways to retain employees, aside from offering increased compensation. One way is providing increased flexibility in terms of where and when employees work. For example, some organizations are piloting a shortened, four-day work week as a way to attract and retain employees.
According to SHRM's State of the Workplace Study, 78% of organizations are prioritizing retaining top talent, making it the second highest priority for 2022. Doing so will require the HR function to constantly evaluate and iterate on its retention strategies in order to keep up with the changing demands of the workforce. For example, in a survey of more than 30,000 people in 31 countries by Microsoft, over 70 percent of workers said they wanted flexible remote work options to continue, while over 65 percent were craving more in-person time with their teams. An organization's retention strategies must respond to and support these differing employee preferences.
5. Developing a Performance Management System
HRM professionals are responsible for developing an effective performance management system that can be used to fairly and equitably support decisions related to training and career development, compensation, transfers, promotions, and layoffs or employee termination. This system is typically made up of three elements: goal setting, performance review, and a performance improvement process.
Traditionally, performance management was characterized by the annual performance review. But more recently it is becoming a less formalized process that focuses more on feedback and coaching than paperwork.
This shift has come about in part because HR professionals are focusing more on the business challenges that performance management is trying to solve. As retaining top talent becomes increasingly difficult, performance management processes that help managers not only recognize an employee's competencies and skills but also identify what skills the employee needs to advance to their next desired role can be instrumental in keeping high performers.
6. Complying with Laws
Human resource professionals must understand and comply with any laws and regulations that affect the workforce, including how employees are hired, evaluated, promoted, and fired. The purpose of these laws and regulations is to ensure that employers administer fair and equal treatment to all of their employees. Examples include:
Discrimination laws
Healthcare requirements
Compensation requirements such as minimum wage
Worker safety laws
Labor laws
Compliance has become more challenging in increasingly remote and hybrid workplaces. According to SHRM's State of the Workplace Study, 81% of organizations reported legal and compliance concerns in the past year. These concerns as well as labor shortages and health and safety concerns were the top three challenges cited by HR professionals in the study.
HRM has undergone many changes over the past decades. Once limited to processing payroll, arranging company outings, and filling out forms, HRM has shifted toward more strategic initiatives than purely administrative tasks. Let's take a closer look at this shift below.
HR Transformation
HR transformation is the evolution of the chief human resources officer (CHRO) role and the HR function from being solely responsible for building and maintaining a workforce to becoming a strategic partner in creating business value. To do so, CHROs and HR departments must better align people strategy, processes, and technology with business goals.
This call to action is increasingly urgent in the pandemic era. In a survey of more than 30,000 people in 31 countries by Microsoft, one in five respondents says their employer doesn't care about their work-life balance. 54% feel overworked and 39% feel exhausted. These statistics illuminate the importance of — and challenges facing — human resources in business.
There are increasingly complex external factors affecting the workforce and workplace, including globalization, changing employment laws, rising healthcare costs, evolving employee expectations, technology used, changing demographics of the workforce, and more.
For example, in a survey of 800 executives based in the United States, Australia, Canada, China, France, Germany, India, Spain, and the United Kingdom by McKinsey, more than a third of respondents said that their organizations were unprepared to address the skill gaps exacerbated by automation and digitization.
HR can and should help address this challenge through strategic hiring and workforce planning. For example, they may use more temporary workers and contractors to fill these skill gaps. Or they may use them as a temporary measure while identifying future core capabilities and hiring full-time employees who have those capabilities.
In the face of digitization and other external factors, companies have the opportunity to differentiate themselves in the way they attract, retain, and treat their employees. Some are embracing hybrid work models, shortened work weeks, or other future of work trends in order to do so.
In order to free up time and resources to be able to implement these higher-impact initiatives, many companies are outsourcing some of the more administrative and transactional HR functions, like payroll administration, employee benefits, recruitment, background checks, exit interviews, risk management, dispute resolution, safety inspection, and office policies. Other companies are looking at ways that automation and technology can make these functions more efficient.
HR Digital Transformation
HR digital transformation refers to the evolution of operational HR processes from being manual and paper-based to being automated and data-driven. Processes like payroll, attendance systems, performance management, and onboarding, which once relied on paperwork and face-to-face meetings are now being moved to technology-based systems.
HR digital transformation encompasses the many ways that technology is being adapted and integrated into HR strategy. For example, some companies are using social media, online games, and AI to digitize how they are recruiting.
Other examples of digital transformation solutions are onboarding software, HR chatbots, and on-demand training.
However, true HR digital transformation is not just about introducing a slew of new tools to the HR function. It's about using tools to advance a greater strategy to improve employee processes and outcomes, and requires a re-imagining of leadership, culture, and the way people work.
Below are some characteristics of HR digital transformation:
Automating time-consuming and repetitive processes
Optimizing organizational processes with data-driven insights
Using a digital platform to reach and connect the entire workforce
Testing new organization business models, including models for recruitment
By undergoing a digital revolution of its own, the HR function will be able to become more aligned with the organization's goals and workforce. This alignment will enable HR to identify what tasks can be automated and what skills employees will need to carry out those tasks. HR can then decide whether they should help employees develop those skills, or hire talent externally.
Human Resources in Business
Human resources is the department within a business that is responsible for all activities related to the workforce. Ideally, the HR department ensures that the business has all of the right employees, at the right time, at the right price.
This requires ongoing analysis of the workforce and industry to answer questions like:
Are enough people hired?
What skills do current employees possess?
What skills do employees need to gain to keep up with technology and other external factors?
Who is retiring soon? Do they need to be replaced?
What are the sales forecasts and how might they affect your hiring?
What are the industry standards for compensation for different departments and roles?
Which employees are most likely to leave? How can they be retained?
These are complex questions that may be answered by one individual or a whole team, depending on the size of the organization.
HR Department Structure
An HR department may vary in size and scope depending on the business and its maturity level. A typical HR department will be made up of six tiers.
Entry-level hires like HR interns or assistants will be at the bottom. Then, individual contributors like recruiters and coordinators who report to the next level of managers. Managers report to directors, who report to vice presidents. At the top is the chief human resources officer or chief people officer. This individual is responsible for developing and executing the HR strategy in support of the overall objectives and strategic direction of the organization.
Below is an illustration of this hierarchy.
Let's take a closer look at the importance of human resources in business below.
Why is human resources important in business?
A human resources department is vital in any company. It provides a wide range of benefits for a business, which continues to expand as its responsibilities and scope grow. Some of the key benefits of having an effective HR department are:
Hiring the most suitable candidates for open positions
Improving the efficiency of recruiting and hiring cycles
Reducing turnover
Enforcing company policies
Complying with workforce safety and labor laws
Fostering the organizational culture
HR can also play a critical role in the organizational design of a company. Let's take a closer look at this concept below.
Organization Design
Organization design refers to how an organization is designed to achieve its goals and objectives. HR plays a critical part in establishing the structures, governance, and roles and selecting the people needed to achieve those goals and objectives.
One organization's design may look very different from another's. For example, if a more established company is looking to maintain its position in a mature industry, then it may have a strong, centralized authority with HR policies that more strictly define employee expectations, responsibilities, and acceptable behaviors and reward employees for staying with the company. On the other hand, a fast-growing startup in a less mature industry may have a decentralized structure with HR policies that are more flexible and reward employees for autonomy and innovation.
Below are some common types of organization designs or structures:
Functional Structure: Work and employees of the organization are divided by specialization of activity. So all HR professionals are part of the same function and report to a senior leader of the HR function. Same with finance and operations professionals.
Divisional Structure: Work and employees are divided by output or another variable like geography. For example, a retail company might divide work and employees by product.
Matrix Structure: Work and employees of the organization are divided by function and output or another divisional variable. For example, a company might divide work and employees by function but also have them report to geographical managers.
Hollow Structure: Work and employees of the organization are divided by core and non-core competencies. Core competencies and processes are maintained internally, while non-core competencies and processes are outsourced.
Modular Structure: Work and employees of the organization are divided by core and non-core components of a product. Core components of the product are kept in-house, while non-core components are outsourced. For example, a sustainable clothing manufacturer may outsource the supply gathering of recycled materials but do the sewing, embroidery, and any other styling themselves.
No matter what the organization's design is, its goal is to remove any obstacles that block the natural flow of information. This will help avoid repetitive work, make behaviors and processes consistent, and improve decision-making and communication across the entire organization.
Typically, HRM professionals will be asked to step up as a strategic partner when an organization's design is being redesigned to respond to changes in its internal or external environment. That could mean changes to their organizational goals or talent management strategy, or changes in their customers, competitors, or suppliers.
The Future of Human Resources in Business
Human resources is no longer defined by manual, paper-based tasks like payroll administration, background checks, and exit interviews. Instead, the HR function has expanded to become a more strategic partner in generating business value. Companies that not only invest in human resources management but invest in transforming it so the HR strategy is intertwined with the overall business strategy will be able to compete better in the future.
Ready to learn more about how human resources independent consultants on Catalant's platform can support your organization?